The Exoprise Team was at Microsoft Ignite 2017 in full force and it was a great show for all involved. We had a terrific opportunity to meet with new and old customers, prospects and meet with plenty of new opportunities. We also handed out a ton of Get CloudReady® t-shirts, talk to new faces and learn a lot about what's in store for the next year. Here's an Exoprise recap of Microsoft Ignite 2017.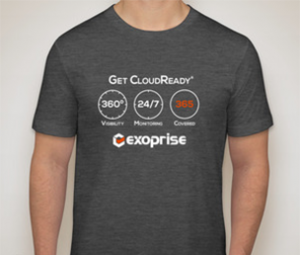 Exoprise New Features & Monitoring Capabilities
Exoprise launched a number of new CloudReady features and pre-announced new functionality. Here's a recap of what we previewed:
CloudReady for Dynamics 365
Pre-announced CloudReady for Azure Blob storage (& AWS S3 Storage)
New in-dashboard tutorials for building visualizations for all of your network intelligence needs
We also showed off a new video that encompasses all the features for Exoprise CloudReady. It's mesmerizing. 😉
Recap of Important News from Microsoft, #MSIgnite
Microsoft covered a lot of ground in announcements at Ignite. We highlighted a few of the most relevant for administrating Office 365 and concerning monitoring of Office 365 and Azure: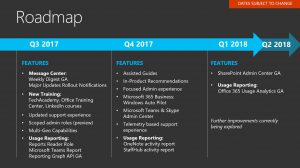 Microsoft Teams to Eventually Replace Skype for Business
Lots of buzz at the show for what was prematurely leaked and largely anticipated; Microsoft Teams will evolve as the primary client for intelligent communications in Office 365 replacing the Skype for Business client over time. With this in mind, Microsoft showed off a preview of a combined Microsoft Teams and Skype for Business admin center which will become available at the end of this year.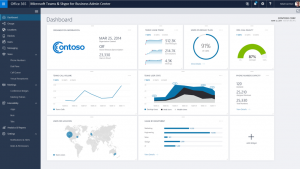 Thankfully, we already have support monitoring Microsoft Teams with CloudReady. While the CloudReady Microsoft Teams sensor covers monitoring channel send and receive performance (posting and receiving channel messages), the Exoprise team will be extending support in the near future for monitoring all things related to WebRTC, video and more.
Multi-Geo Office 365
Multi-Geo capabilities are coming to Office 365 and enable a single Office 365 tenant to span across multiple Office 365 datacenter geographies (geos) and store Office 365 data at rest, on a per-user basis, in customer chosen geos. It's currently in preview for OneDrive and Exchange and SharePoint, it was announced, will get this feature by the end of the year. Read the full announcement. https://aka.ms/Multi-Geo
With geos capabilities and CloudReady in place, you should be able to see if performance improves once datacenter geographies are put in place.
We'll Be Back—Will You?
Microsoft has already announced that they'll be back in Orlando next for year for Microsoft Ignite 2018. We'll be back and look forward to seeing you there.