IT Monitoring Strategy Needs to Include Application Performance Data With Real-User Behavior Insights
Virtual collaboration is the new name of the business game in 2022, with at least 25% of employees in the US predicted to be working remotely by the end of the year. As the Work-from-anywhere movement continues to grow and online meetings become the industry standard, remote employees increasingly rely on access to SaaS and mission-critical services directly from the Internet.
Enterprises can no longer rely on the traditional business model where in-person meetings constitute collaboration and data is physically stored in corporate data centers. As a result, successful enterprises adapt and expand their technology stack to seek Infrastructure-as-a-Service (IaaS), Software-as-a-Service (SaaS), and other cloud-based services.
But such expansion comes with technological challenges and risks. First, IT doesn't own or control any part of the external infrastructure outside the corporate boundary. Second, when there is an outage, disruption impacts employee productivity and the core business. And your application performance monitoring (APM) strategy fails to provide visibility across the entire digital landscape.
In this blog, let us focus on APM, what it is, why it is essential, and an alternative monitoring strategy to save you all the trouble.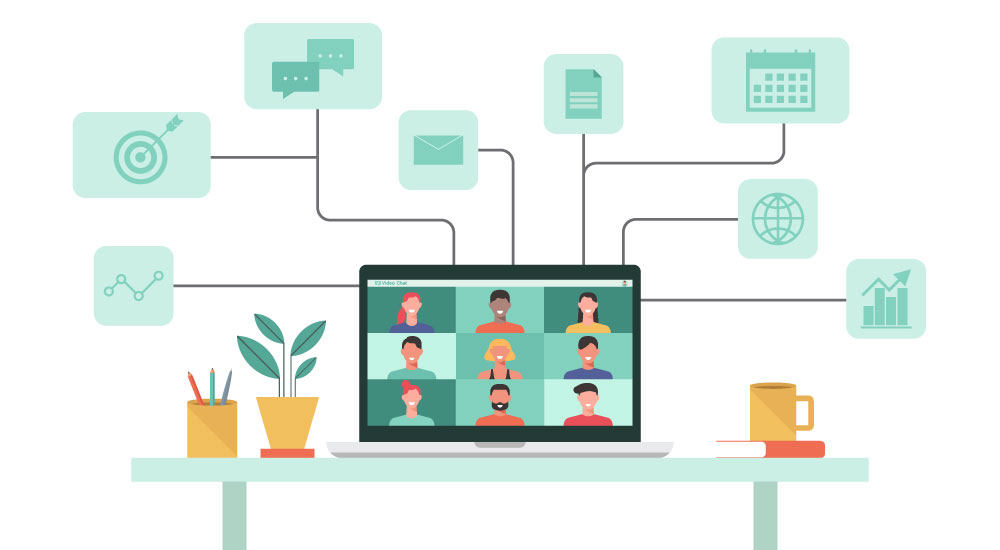 Application Performance Monitoring — What Is It?
Application performance monitoring is a technique that uses a collection of processes and tools to ensure that end-user-facing applications meet performance standards and provide a valuable digital experience.
APM focuses on tracking and measuring the technical performance of applications by gathering data such as:
Memory usage
CPU utilization
Bandwidth consumptions
Data throughput
IT professionals use these metrics to identify the root cause of application performance issues and reduce the mean time to repair (MTTR). The best APM solutions monitor infrastructure and track the end-user experience, business transactions, and application dependencies.
Support teams can configure the APM tool to alert them when problems arise, or an application's performance dips in a specific area. They can also prioritize the applications based on the business-critical they are.
You may wonder: APM seems like an effective tool for application monitoring, so why are so many enterprises migrating to digital experience monitoring as their monitoring solution?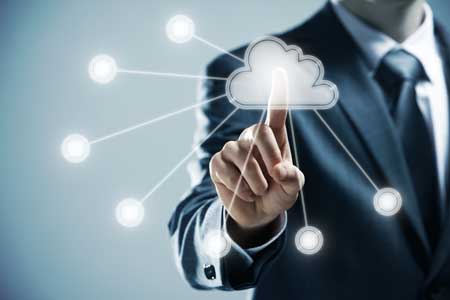 The Challenges of Application Performance Monitoring
Slow software performance is one of the biggest production roadblocks facing companies today. Gartner reports that network downtime can cost businesses an average of $5,600 per minute, which adds to over $330,000 per hour.
Performance issues don't only affect your bottom line. According to CIO.com, 46% of employees would consider changing jobs due to software usability issues.
What does this mean for you?
Whether end users are employees or consumers, they want perfect digital experiences. And they look over to your team to provide them. Therefore, you need an effective monitoring strategy to provide an optimized end-user experience and ensure a seamless user online journey.
Application performance monitoring has been useful for monitoring applications in a business environment. But as you expand your enterprise, your team will need a comprehensive business solution that provides complete, end-to-end monitoring of the business-critical performance of user-facing services and applications — no matter where your employees work.
Many IT organizations using APM solutions cannot connect the dots to see how an application performs as a whole. As they say, the whole is greater than the sum of its parts. In addition, these solutions are very IT-focused on solving application-specific issues – Is the app up and running? Is it responding to user requests?
But what happens when certain applications perform better from one location but not the other? How do network admins diagnose problems outside their firewall?
It's time to get with the times. You need to switch from application performance monitoring and give your enterprise a much-needed makeover with Digital Experience Monitoring.
A Comprehensive Monitoring Solution — Digital Experience Monitoring
Digital experience monitoring (DEM) merges the technical functions of APM with end-user experience monitoring (EUEM) for a cohesive tool that analyzes the efficacy of your business services and applications. It monitors how your applications perform from any location and how users interact with them to ensure a consistent digital experience — no matter where they work from. The solution combines proactive synthetic intelligence with endpoint real user monitoring to offer complete monitoring coverage of any SaaS or Desktop app.
We call this approach 'Better Together'. Download this paper to learn more.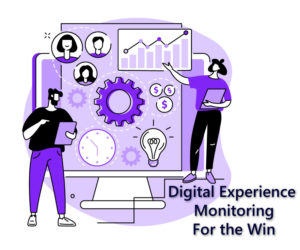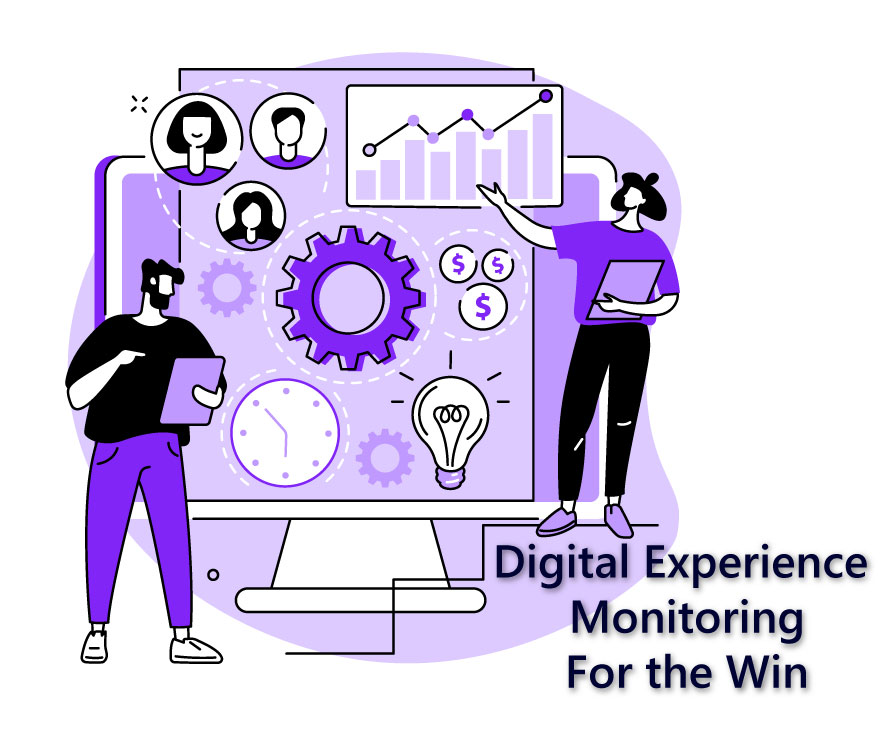 How does this help you?
Your team gains a remote, holistic view of web and desktop user experience insights. They can then follow an efficient, preemptive process each time an issue arises.
There are four steps to this process:
Observe: View application performance issues from the user's vantage point.
Isolate: Pinpoint specific problems in real-time.
Diagnose: Rapidly determine the root cause.
Resolve: Fix the issue to optimize digital transactions and the end-user experience.
So how does this differ from application performance monitoring, and what makes it the top choice for many businesses today?
The Battle for Monitoring Supremacy — APM vs. DEM
Modern applications need modern tools.
That's because today's applications are complex and weaved together with multiple layers of functionality, making troubleshooting and diagnosing difficult. So when a user complains of slowness, how do you determine where the problem is. Why? The network team manages its domain, the app owner is responsible for the upkeep of the application, and someone else owns the infrastructure and handles it with their distinct toolset.
To make IT teams more efficient and drive employee engagement, you need to track and measure application performance from a user perspective, not a machine perspective.
Which among APM or DEM is superior?
As mentioned above, application performance monitoring tools are only effective in monitoring on-premise applications and data storage. Indeed, they can also ensure that application servers comply with a cloud service-level agreement (SLA). However, they have limited network and cloud monitoring abilities and orient themselves towards technical rather than user performance.
Unlike APM, DEM provides a holistic view of the end-user experience for desktop and web application performance. Its purview encompasses core infrastructure, endpoint devices, business processes, and applications. It also transforms the collected data into business outcomes.
No matter what complication you experience with your desktop applications, network, or cloud-based services and applications, DEM will give you the real-time insights needed to handle it before it affects your end-users. Trust us, and you'll improve productivity and reduce attrition.
Overall, a digital experience monitoring strategy offers a better return on your investment due to its broader scope, strategic appeal, and unmatched visibility. IT and business departments align well by achieving business outcomes and objectives sooner. DEM also has a wide range of uses that will increase the efficiency and performance of your applications.
The Many Use Cases of Digital Experience Monitoring
DEM can be used for various services and applications to optimize the end-user experience. Though there are many use cases for DEM, there are three that will immediately improve your enterprise's software performance.

1. Complete Digital Experience Visibility
Digital experience monitoring provides end-to-end visibility of your SaaS and Desktop apps, services, and networks, allowing you to access individual performance metrics simultaneously to improve the end-user experience. In addition, you'll get a complete view of your SaaS providers, proxies, Wi-Fi, and ISPs, no matter where your remote employees work.
Perform hop-by-hop diagnosis for any streaming Desktop app (Microsoft Teams, Zoom, WebEx, GoToMeeting). Then, quickly find out what bottlenecks are behind jitter, packet loss, latency, etc., so you can deliver an optimal Quality of Experience for your remote workforce. DEM tools also offer IT digital experience scores to quantify user sentiment and remove ambiguity.
2. Proactive Diagnostics and Troubleshooting
DEM can detect SaaS outages as early as 30 mins to 2 hours as they happen across various network environments, including:
On-premise
Hybrid
Virtualized
Physical
SD-WAN
DEM combines synthetic and real user monitoring for a real-time view of all your apps and their network path performance. It will thus track and isolate the source of network issues, allowing you to fix the problem before it affects the end-user experience.
3. Cloud App Migration
End-user experience and application performance visibility becomes a challenge as companies move their business applications and data workloads to cloud computing environments. Why? Because they don't have a benchmark to compare.
Digital experience monitoring creates performance baselines and Internet insights for on-premise, web application performance and end-user experience. Such creation occurs at all stages of the migration — even beforehand — so your IT team can proactively implement any changes needed to improve the result.
Wrapping Up – Application Performance Monitoring is Short Term
Don't stay in the past. Instead, dwell in the present and think about the future.
As modern workers and consumers increasingly rely on the Internet for services, your enterprise needs tools that ensure your systems provide the best digital experience and UX.
Exoprise offers a compelling SaaS and desktop DEM solution to optimize the business-critical performance of your end-user-facing apps.
Do you want to improve your processes, boost employee productivity, and successfully reach your desired business outcomes with the power of digital experience monitoring?
Contact us to start a free trial of our DEM software!