Introduction
Remote work has seen a resurgence due to the pandemic, and hybrid work is here to stay. It's excellent news for knowledge workers, but what does it mean for support teams?
Employees working from their home, vacation property, or a coffee shop create a different environment for technology teams, who need to support and ensure the applications and infrastructure are working well end-to-end. In addition, remote setups introduce new technical challenges as they are often outside IT's control and require unique solutions.
A Digital Experience Monitoring (DEM) tool is what today's IT teams need to properly support a distributed workforce.
But What Does Remote Work Mean?
Gartner defines remote work as a flexible working arrangement, allowing employees to do their jobs – anywhere – especially from outside corporate offices.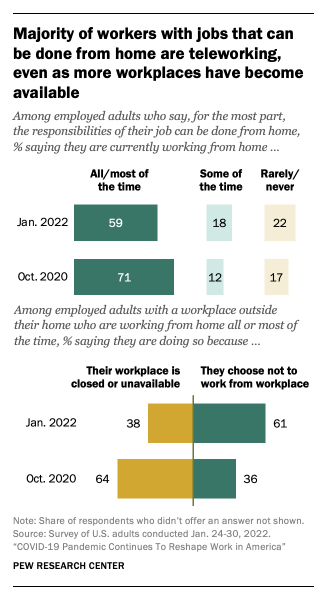 Remote work has long been a trend – digital nomads made this employee experience concept mainstream. However, it was the COVID-19 pandemic that accelerated remote work and made it necessary.
To give you an idea of some statistics, a recent 2022 article from Pew Research shows that 59% of US workers whose jobs can be done remotely are now working from outside the office. In addition, Harvard Business Review said that hybrid and remote work options would become the norm for knowledge workers in 2022.
Is There a Future to Remote Work?
Some employers are pushing back as much as remote work is the apparent trend. For example, a March 2022 survey by Microsoft finds that 50% of companies want employees back in the office five days a week.
But just because that's what leadership wants doesn't mean it's going to happen – workers primarily want to work from home, enjoy flexibility, and, in many cases, companies have no choice but to comply to keep them happy.
An April 2022 survey by Envoy found that 88% of companies are offering incentives to get employees back in the office. The same study also found that 77% of companies are doing a hybrid working model. So, even as the underlying details are working out, it's clear that some form of remote work is here to stay. That means IT teams and technology leadership have a requirement to support these new working models with up-to-date solutions.
Support Remote Work With The Right Toolset
People who choose remote work aren't just phoning in from a home office. Instead, they are setting up and using several VoIP and unified communication applications from co-working spaces, coffee shops, or even while in transit on the subway. Its not just the corporate mandated collaboration solution but also the ones that your partners and consultants use. Its not uncommon to find at least 3 video collaboration solutions in use each work week.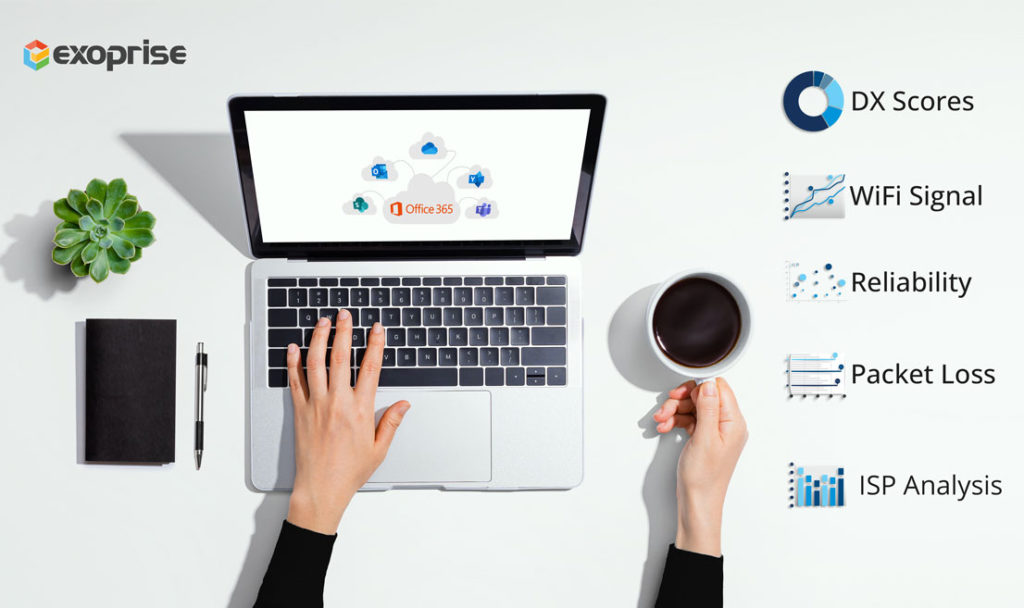 Some of the remote work tools include:
Microsoft Teams
Zoom
WebEx
Google Meet
GoToMeeting
Skype
You can attribute remote work flexibility and program success to the enterprise adoption of these communication apps. Combining hardware and software make a distributed team possible, both cloud-based and on local servers. As a result, remote workers communicate, share ideas, collaborate on projects, and even socialize while not in the same physical space.
Setting Employee Expectations for Remote Work
Of course, it's not just about technology. Companies have work to do to set expectations about what it means to be remote employees.
There are many components to this, starting with:
Human Resource (HR) Policies that envision a sick time, availability, and other factors that take into account a remote workforce
Technology and Digital Tools that enable teams to work collaboratively and seamlessly, even when some team members are remote
Best Practices for In-office Gatherings that take into account COVID and other public health protocols
Ensuring a Work-life Balance for all employees, including remote workers who may be across different time zones
Companies that have taken the lead with remote work know the importance of these components. As a result, they have implemented initiatives to support these ideals.
For example, Chargebee, a recurring payments provider, requires mandatory paid time off each year to encourage remote workers to disconnect – recognizing the need for work-life balance.
Challenges with Remote Working
As much as remote working offers many benefits – employees are generally happier with the flexibility, and companies can retain and recruit valuable team members – this new setup can be a challenge in several ways.
These include technical challenges surrounding network connectivity and maintaining the virtual workspace. First, there's the challenge of giving remote employees a consistent digital experience. Several factors can make this difficult, including:
Employee's Home Setup – The Wi-Fi provider may be unreliable, and there may be consistent issues with network connectivity, Internet, proxies, gateways, ISP, and more.
Different Endpoint Devices and Configurations – This isn't easy to manage by IT professionals, as there is a patchwork of hardware and software systems to navigate, adding to the complexity
Jitter, Packet Loss, and High Latency with VoIP and streaming apps — can create barriers to a seamless employee experience, especially as workers try to communicate and collaborate with others over a virtual space.
Limited Visibility into the End-User Experience – Even the most astute technology managers cannot get the complete picture of how each remote worker engages digitally with SaaS and Desktop applications because of their distant locations. Instead, they rely on firsthand accounts from the employees and cannot take a seat at their desks to fully understand how the technology works for them.
Despite these challenges, there are ways for network administrators and application owners to make remote working a success – with a bit of help from organizations like Exoprise.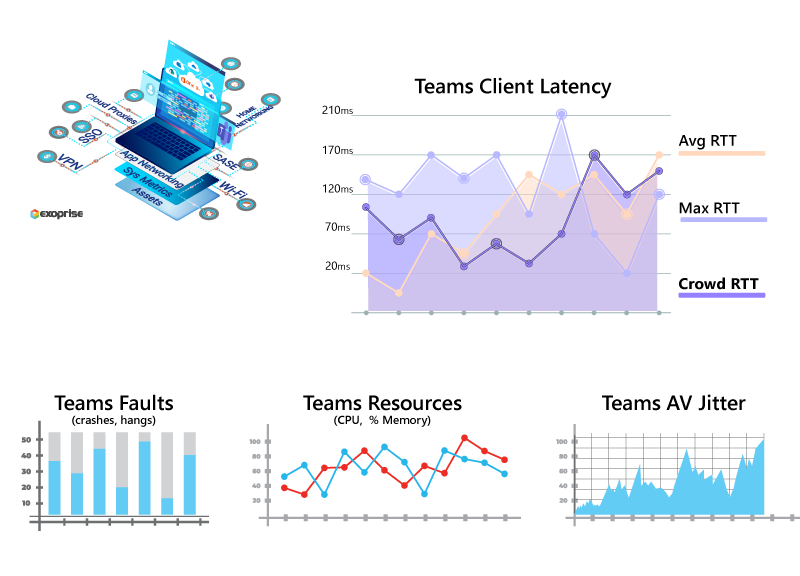 Make Working Remote Easier with Exoprise Digital Experience Monitoring
DEM is a part of remote work best practice that optimizes employee productivity and enhances the digital experience for a distributed workforce. To further reinforce, the Exoprise Digital Experience Monitoring solution provides businesses with actionable insights to:
Troubleshoot application issues from anywhere (and within minutes!)
Offer proactive synthetic monitoring & endpoint monitoring coverage in a single solution
Provide end-to-end visibility into 3rd party service performance (Desktop or SaaS)
Diagnose hop-by-hop trace for ANY streaming app and pinpoint issues in a network path
Support remote work policies
Start a free trial today to reap immediate benefits for your team.