Introduction
Digital experience has existed for a while now. We have now begun to scratch the surface to monitor it. So that calls for Digital Experience Monitoring (DEM). DEM extends Application Performance Monitoring (APM) and Network Performance Management (NPM) to view and optimize application performance issues from the end-user perspective.
Gartner's definition of DEM is a "performance analysis discipline that supports the optimization of the operational experience and behavior of a digital agent, human or machine, with the application and service portfolio of enterprises. This discipline also seeks to observe and model the behavior of users as a flow of interactions in the form of a customer journey."
Create Your Digital Experience Monitoring Strategy
Huge Importance of Browser-Based Real User Monitoring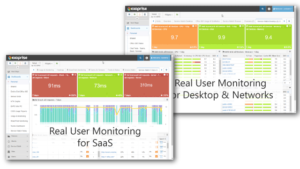 Most SaaS applications and services are accessed through a web browser such as Google Chrome or Microsoft Edge. Knowledge workers rely on the browser every day to search for information online or connect to WebRTC Microsoft 365 Teams for their next meeting. Developers create microservices applications and deploy them in Kubernetes in the cloud service using a web UI. It's a useful argument for IT to monitor and further analyze the browser's experience data. Why not? Collect advanced telemetry data on DNS timings, server ping, trace, packet loss, audio quality, TTFB, etc. helps significantly in troubleshooting network performance issues. During a browser experience problem, start by comparing the local web experience score (WXS) with the crowd-sourced data and halve your response time.
Use Data to Your Advantage in Your DEM Strategy
Data is gaining relevance in multiple industries that drive workflow processes and business decision-making. The same is true for monitoring. Aggregating metric data from multiple digital channels, portals, and touchpoints provides IT with new insights for a comprehensive experience picture. Just looking at an isolated ticket submitted to the help desk does not help a remote worker as it requires more context and can be costly to investigate.
In addition, when an outage strikes, it affects the entire workforce and generates excessive incident tickets to manage with limited resources. Proactive incident management requires findings issues using monitoring data in the environment before it happens and promptly sharing with customers and employees. Quickly identify issues and perform diagnosis by visualizing and correlating data from multiple sources in analytical dashboards that update in real-time.
Better Together – Real User Monitoring and Synthetics
A monitoring solution like DEM is flexible and adaptable to today's demands for a seamless digital experience in the workplace.
Synthetic Transaction Monitoring (STM) CloudReady sensors emulate a real user periodically testing Microsoft 365 and SaaS applications for uptime, availability, and performance without scripting requirements.
Real User Monitoring (RUM) or user experience monitoring tracks and analyzes user interactions in real-time with a website or third-party SaaS application to troubleshoot slowdown and network issues from any location.
Benefits of Digital Experience Monitoring
Exoprise DEM solution strategy combines STM and RUM techniques to gain valuable insights into end-user experience and align IT initiatives with business outcomes.
Increase SaaS Visibility
Boost Employee Experience and Engagement
Reduce Attrition
Improve Data Visualization with a common DEM solution
Here's why experts believe both RUM and synthetics are important.

Free Digital Experience Monitoring Tool to Get You Started
If you have made it this far, you have earned yourself a DEM reward.
Sign up for a free 15-day trial. Try
Service Watch Browser for up to 50 users
Service Watch Desktop for up to 25 devices in addition to the best Microsoft 365 synthetics.